Ministers:
Rev Melvyn Cooke Phone: 01293 973847 email: melvyncooke@me.com
Deacon Jenny Parnell Phone: 01293 664696 email: jenny.parnell@methodist.org.uk
To enquire about hiring a meeting room email crawleymethodistchurch@gmail.com
All other enquiries email ask.stpauls@gmail.com
---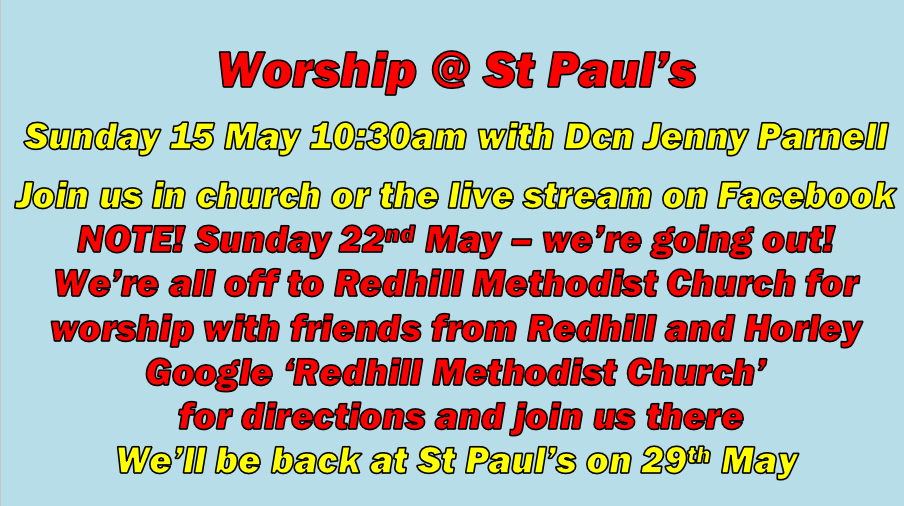 St Paul's Newsletter 22/29 May 2022
Worship at Home 22nd May - What is worship and why do we do it?
COVID precautions - infection rates are still quite high so we continue keeping everyone safe
The church is spacious and well-ventilated and seating is arranged for good distancing

The service is rather shorter than normal - about 45 minutes

We ask you to please wear a face covering in the building and during worship

On arrival please use the hand sanitiser provided
---
St Paul's is in the Northgate neighbourhood of Crawley, West Sussex. It's the only Methodist church in the town and the only mainstream Christian church in Northgate. We're a friendly church representing the rich cultural mix of Crawley and we offer a warm welcome to visitors. If you're in our area come and check us out for yourself. Meanwhile find out more about us in these pages.